EHS Software: What is it & How does it work?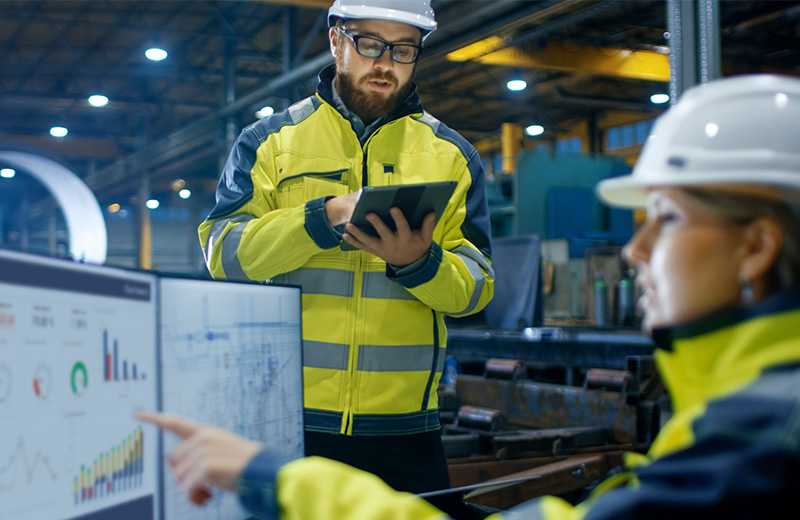 What is the role of EHS?
EHS stands Environment, Health, and Safety. It is an acronym used to refer to a profession that addresses legislation, industry regulations, corporate strategies, and initiatives to protect the health and safety of employees, and the public, as well as the environment from hazards associated with the workplace.
What is an EHS system?
Environmental Health and Safety systems are Management Systems developed by organisations specifically to define, measure, mitigate, and manage their ongoing exposure to Environmental, Health and Safety risks in their operations. They are typically aligned to Government and industry regulations.
An EHS Management System will form part of an organisation's Corporate Risk Management System. It will include all relevant policies, procedures, and business processes that specifically address EHS risks efficiently while managing its impact to the environment and minimizing/controlling occupational health and safety risks.
The EHS management system needs to provide the structure for implementing proactive, sustainable, business practices, while ensuring EHS compliance with internal and external requirements, driving continuous improvement, and supporting the organisation's strategy to achieve its objectives.
What is EHS management software?
EHS Management Software is a suite of applications that support the business processes of EHS Management Systems, by providing technology capabilities to automate these processes, and delivering operational efficiencies and better safety outcomes. EHS software solutions provides a central platform, and a single source of truth, to capture evidence to support regulatory compliance. By organising all the information into powerful dashboards, it provides a complete picture of a company's performance in real time.  The software also provides insights into the performance of the EHS Management system to enable continuous improvement.
What does EHS software do?
As EHS processes span across all operational areas of a business, EHS software may need functionality that would include:
Incident and Emergency Management
Investigations and corrective actions
Risk and Hazard Management
Audits and Inspections
Injuries and illness Management
Workers Compensation
Insurances and Litigation Management
Health Monitoring and Early Intervention
Permit to work and
Access Management
In addition to comprehensively supporting these functional areas, EHS software should have powerful contemporary business system capabilities that include:
Automation and workflows
Security and Access Management
Reporting and business intelligence
Notifications and alerts
Intuitive User Interface and Mobile responsive design
What are the benefits of EHS software?
The three key benefits to be realised by implementing EHS software are reduced costs, reduced risks, and increased productivity. These benefits can be substantial and can be assessed using direct and indirect measures.
Reduced Costs
Because Safety software systems fully automate regulatory compliance reporting, as well as data entry and safety management across the wider organisation, it makes the effort and therefore cost of operating the EHS Management System far more efficient, leading to a direct cost reduction.
Reduced Risks & Increasing Productivity
By systematically tracking and reviewing safety programs, EHS Software also delivers better safety outcomes while proactively engaging the workforce. The result is a raised level of safety awareness and participation across the organisation, leading to lower incident rates and lost time due to injuries which, in turn, reduces operating costs and increases productivity.
Better safety performance will also result in decreased insurance claims and lower insurance premiums. For self-insured organisations this may mean lower provisions and freeing up valuable capital on the balance sheet.
Other Indirect Benefits
As well as these direct benefits, improving safety performance through EHS software implementation can have substantial indirect benefits, such as increased staff morale and employee satisfaction, leading to better staff retention and employee acquisition. By reducing the overall corporate risk profile, companies can also access market capital at a cheaper cost. While many people may discount the intangible benefits of investing in safety systems, they clearly can have a substantial benefit to an organisations ability to sustain competitive advantage
How much does EHS software cost?
There are substantial benefits to be gained from investing in EHS software, making an appealing business case. The cost of an EHS software solution can vary greatly according to several factors, such as the number of licensed users and the scope of functionality. It is also important to note that there are several additional costs to consider when evaluating the total cost of ownership (TCO) for the software.
The implementation costs to ensure the software is configured and customised to an organisation's specific requirements will need to be considered, as well as the system integration to core business systems, such as HR and asset systems - this can typically be around 25% of the total implementation cost.
In addition, the cost of training and change management needs to be considered. Even the best implemented solution will not achieve its expected benefits if training and change does not provide effective adoption of the software. Lifecycle costs, including software maintenance and support, need to be factored in to ensure the software remains relevant as technology and EHS processes change. If you are considering commercial off the shelf (COTS) solutions or building your own, then licensing and operating costs for hardware, middleware, databases, and any additional third-party applications, will also need to be considered.
Fortunately, modern, digital EHS software solutions provisioned on cloud technology, bundle many of these elements as a service. These Software as a Service (SaaS) solutions will almost always provide the lowest TCO and most flexible commercial terms. Today, Comprehensive EHS SaaS solutions are available for as little as a few dollars per month per employee.
What to look for in an EHS software application
EHS Software Solutions have been around for many years, however the technology has changed dramatically in recent years with the advent of digital tools, techniques, and cloud computing models. This has radically changed the capabilities, cost, and effectiveness of EHS management software.
Agility – Safety legislation is usually country specific and regulatory compliance obligations change regularly. This means that EHS Policies and processes will also need to change, as well as the software that supports them. Traditional software change is costly and requires developers to design, build, test, and deploy new code to support the changes. Modern digital solutions are designed to enable change by business users via simple configuration options leading to a lower TCO.
Functionality – EHS management systems touch across all departments of an organisation and all levels of personnel, from executives to frontline staff. Many traditional EHS solutions focus on specific processes like incident management, are monolithic, providing a 'one size fits all' approach, or rely on legacy database technologies and third party solutions to manage reporting, Modern Software as a Service (SAAS) Solutions provide extensive functionality across the entire value chain of workplace safety. They are also modularised, so that you only pay for the functionality that you need, come with inbuilt automation, and real time reporting capabilities.
Supportability – EHS is specialised and complex. To be effective, EHS software solutions need to blend technology, capability, EHS knowledge in an industry, regulatory context, and remain relevant under the forces of change and disruption. Traditional safety software vendors are typically experts in their software or a specific industry/geography at a point in time. Modern digital EHS systems need to be supported locally by experts in safety, technology, and in the management of the human side of change, all while re-investing in continuous research and development to enhance the solutions to remain relevant.
Reliability – For most organisations EHS software needs to be accessed anywhere work is done, by anyone, on any device, and at any time. The information it contains is typically commercially sensitive, so it also needs to be secure. Emergency situations can lead to a rapid increase in the use of the software, so it needs to be able to scale effectively at cost.
Interoperability – because EHS systems are ingrained into everyday operations, they need to be able to integrate seamlessly with core operational systems like ERP, HR, Asset and Document management systems. Typically, these integration requirements will make up over 25% of the TCO for a Safety system, and in many cases will lead to manual duplication of data entry in multiple systems. Modern digital systems provide API's and integration capabilities to support seamless integration and a single source of truth for safety information.
If you or your business is looking to protect the health and safety of employees, the public, as well as the environment from hazards associated within your workplace, reach out to Safety Evolved's specialised team by getting a quote or requesting a demo with us today.
If you've got questions, we've got answers.
Drop your details into the form and hit submit. We'll do our best to respond to all enquiries within 24 hours.
Want to see our products and services in action? We can provide a live demonstration anytime, anywhere. Click here to request a demo.